GIS Mapping for Distribution of Firefly along Sungai Sepetang, Perak
Abstract
Kuala Sepetang is well-known for its firefly-watching activities at night as ecotourism benefits mangrove ecosystems and has no negative effects. This study is to generate a GIS mapping for firefly hotspot distribution and the objectives of this study are to map the firefly hotspots and identify the number of fireflies in Kuala Sepetang. The GIS hotspot analysis of the firefly population in Kuala Sepetang has not yet been studied. Ten (10) sampling stations were chosen based on surrounding indicators to emphasized the number of fireflies. The fieldwork has been operating from November 2021 until April 2022 for 5 nights monthly along Sepetang Estuary. During the daytime, the boat will stop by the riverbanks for 10-15 minutes at all stations to collect and identify the vegetations and measure the parameters for the water quality inspections while the counting for fireflies occurs during the night-time survey. The result showed the number of fireflies in Station 6 has the largest population of fireflies, with 55,719 total fireflies discovered over the duration of six months. Moreover, Station 6 was chosen as the best display tree due to its density of flashing lights. However, this study only covered the GIS mapping for distribution of firefly along Sungai Sepetang. Hotspot analysis in GIS were used to identify the distribution of fireflies and investigate the environmental parameters affecting the number of fireflies. More studies are required since the only habitats for congregating fireflies which is the mangrove area are depleting due to developments and deforestation.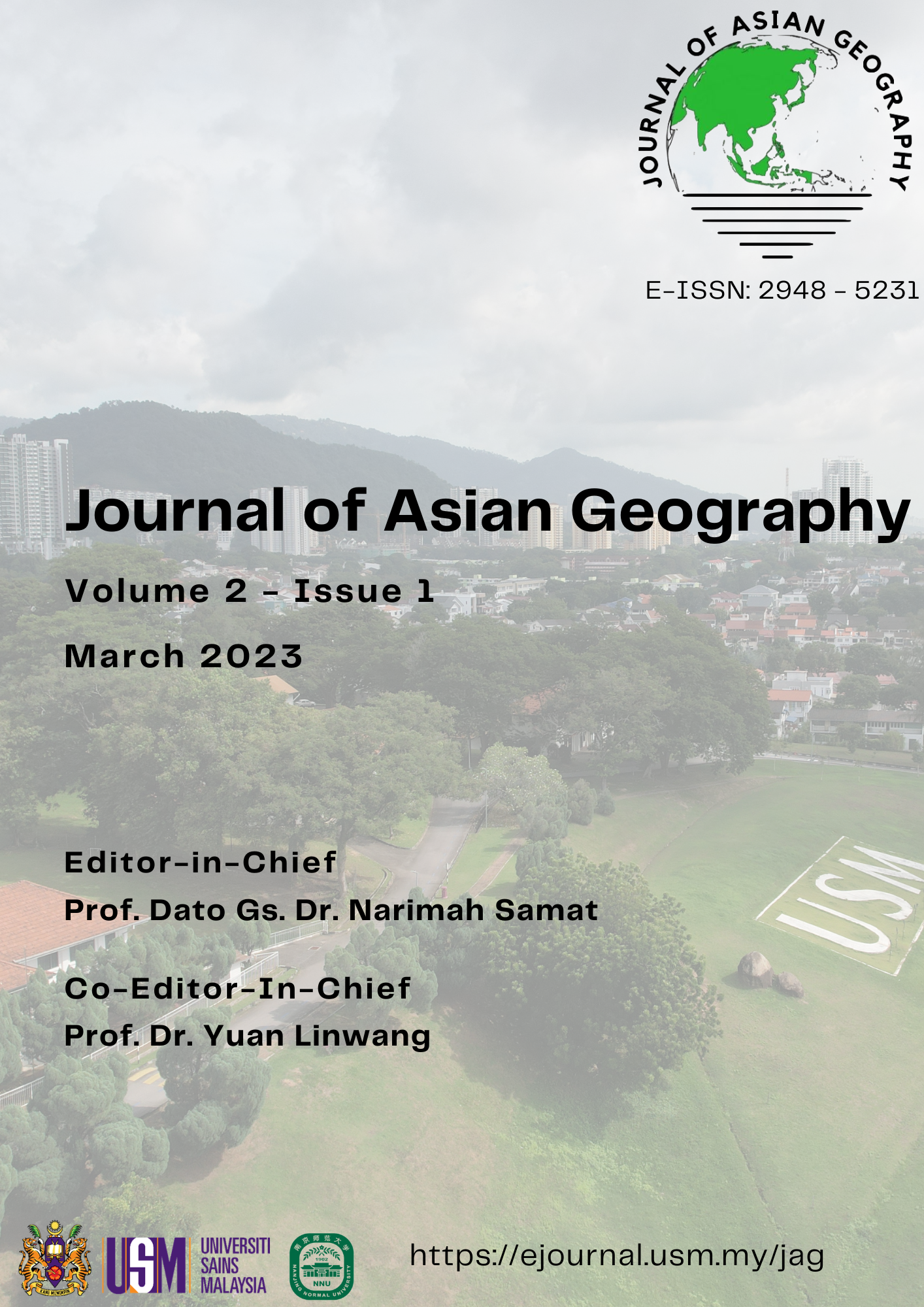 Downloads
How to Cite
Noor Fazeera Binti Ahmad Fuzi, Azimah Abd Rahman, & Faradina Binti Marzukhi. (2023). GIS Mapping for Distribution of Firefly along Sungai Sepetang, Perak. Journal of Asian Geography, 2(1), 37–43. Retrieved from https://ejournal.usm.my/jag/article/view/3989
License
Copyright (c) 2023 Journal of Asian Geography
This work is licensed under a Creative Commons Attribution 4.0 International License.